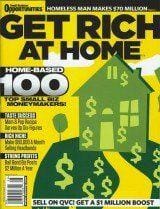 Small Business Opportunities Magazine
Get Rich at Home Issue, May 2015
INVENTING SUCCESS
First-time entrepreneurs get million-dollar boost from Shark Tank, QVC and T2 Design. Here's how…

Inventors are evolving into savvy entrepreneurs, risking capital and sweat equity to take their products directly to the marketplace, often with the help of crowdfunding and TV shows.
With hard work and determination first-time inventors are generating millions of dollars in retail sales. "Inventors are no longer content to invent and seek licensing deals; they want to become inventor entrepreneurs. This new entrepreneurship trend for inventors has been made possible by the new economies created by crowdfunding sites like Kickstarter and Indiegogo as well as the massive benefits to small businesses of ecommerce sites like Amazon, Ebay, Etsy and even Instagram.
Add that to the popularity of television shows like 'Shark Tank' and 'The Profit', and there definitely has been a tipping point promoting startups and home businesses," states Paul Berman, president of T2 Design, an invention and prototyping company in Santa Monica, California.
QVC celebrity Lori Greiner and her "Shark Tank" inventors featured on the "Queen Latifah Show"
T2 Design clients Marc Newburger and Jeffrey Simon invented the "Drop Stop", a patented device that prevents cellphones, make-up, keys and food from falling into the gap between the car seats and the console.
These two inventors worked with T2 Design to launch their new product. With modest but respectable sales, this smart tenacious team presented their product on the ABC hit TV series "Shark Tank" and Lori Greiner, known as "the Warm Hearted Shark," made a deal to invest in their company and take "Drop Stop"to the masses. The two inventors now regularly appear on QVC TV selling thousands of "Drop Stop" car accessories each time they appear and Greiner made it possible for their product to be sold on the shelves in over a thousand Wal-Mart stores across the country.
Attorney Ken Spencer became an inventor when he solved a persistent problem for lawyers, judges and jury consultants across the country, by developing a unique, patented jury selection organizer kit.
The "aha moment" came to him when he watched a high-powered litigator fumble with his notes during the critical period of jury selection known as "Voir Dire".
Spencer went to T2 Design and Prototype to develop his invention "The Jury Case." Within months of manufacturing the product, an employee of the Emmy Award winning television show, "The Good Wife," starring Julianna Margulies, contacted Spencer requesting to use "The Jury Case" product in a pivotal opening scene of an episode.
This product placement showcasing his invention to millions of viewers has increased the visibility and credibility of the product and now lawyers across the country are going to his website http://www.JuryCase.com to purchase his invention.
Pat McLemore, a devoted father of three, born in St. Louis, Missouri, invented the Treemate Tree Toppers, a product line of universal and improved Christmas tree toppers, that eliminates the tilting and falling over of tree toppers.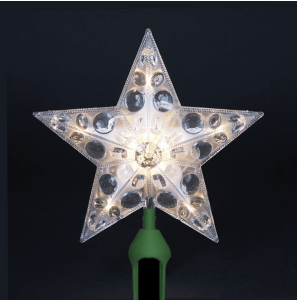 Inventor launches "Treemate Tree Topper Stabilizer Kits" for Christmas trees.
There are Treeemate Tree Topper Stabilizer Kits for real or artificial Christmas trees. McLemore developed his prototype and set up manufacturing through T2 Design Corporation and with his wife of 24 years launched a website http://www.amerrierchristmas.com to sell his  invention and other inspirational holiday products.
Professional fitness trainer, Kappel LeRoy Clarke, who set an amazing record throwing a 106 pound kettlebell continuously on the 2.7 mile sand stretch between the Venice Pier to the Santa Monica Pier, has invented the new fitness product "Stumps", so that amateur and professional athletes can train on a multi-level set of platforms to improve their strength, speed, agility and balance, all while "Stumpin".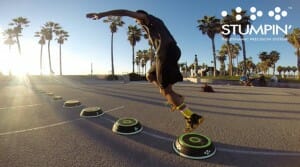 Crowdfunding helps develop "Stumpin" a new sports & fitness equipment invention.
In addition, Clarke used his record kettlebell throw to raise awareness and money through an Indiegogo crowdfunding seed money campaign in order to develop his first prototypes for his unique sports and fitness invention.
Clarke worked with T2 Design to develop and perfect his workout invention and soon Clarke will launch his website http://www.GetStumpin.com and start another crowdfunding Indiegogo campaign to manufacture his product. "Ive learned that transforming someone's physique is simple…Creating unique, empowering experiences can liberate a person from themselves," Clark stated. "Stumpin" can assist people in their quest for positive change…real change that starts in the mind. An action-oriented mind. A performance mind."
Paul Berman, president of T2 Design, who holds a mechanical engineering degree from the University of Michigan, stated, "I've developed hundreds of prototypes for inventors and there is a definite trend now for inventors to pursue crowdfunding or equity investment to start-up their own companies to launch their new products."
"Five years ago approximately 75% of my clients pursued licensing deals, now over 75% of my inventor clients aspire to start their own companies to manufacture and distribute their unique products." The ultimate goal for some inventors may still be licensing the invention or selling their start-up business, but entrepreneurship seems to be a critical step in the process."
Another as-seen-on-TV "Shark Tank" success is the new clothes freshening product line called the Reviver, invented by Ben Kusin. Ben, a Texas born inventor, was determined to solve the annoying problem that many professional encounter, which is the lingering odors such as smoke or pet smells that cling onto clothing during the work day.
"Shark Tank" Lori Greiner invests in"Reviver" a clothes freshener invention.
T2 Design worked with Ben to develop the prototype for his invention, as well as a line of applicators for the product. Ben brought in his brother, Eric to manufacture and distribute this patent-pending product line Reviver odor swipes. The disposable product line includes the Sparks Clothing Swipe, the Smoke Swipe, the Reviver Swipe for Dogs and Cats, and the Spark Clothing Swipe infused with pheromones for him and her by Reviver.
Quickly, the Kusin brothers sold over a million dollars worth of product, online and at convenience stores, pet stores and casinos. On ABC's TV show "Shark Tank", the brothers pitched to Mark Cuban, Kevin O'Leary, Barbara Corcoran, Robert Herjavec, but it was the "Queen of QVC" celebrity, Lori Greiner who invested $150,000 for 15% of the company, and now Kusin's invention, the clothes freshening product line, is being sold at thousands of stores across the country including Walgreens, 7-Eleven and Petco.
"Stores and consumers are constantly looking for innovative new products that solve day-to-day problems, but you need to work out the kinks before you go to market," Drop Stop inventor Marc Newburger exclaims. "Early on in the inventing process, we went to Paul Berman at T2 Design with our prototype after seeing his amazing work with other inventors on the TV show "American Inventor." Newburger's business partner, inventor entrepreneur Jeffrey Simon adds, "Paul worked extensively with us to make our product retail ready."
"Many of my inventor clients tell me that TV shows like 'Shark Tank' inspire them to pursue their dreams and become inventor entrepreneurs. It's an exciting new trend for inventors that the internet, television and crowd-funding has made possible."
T2 Design has been designing and prototyping inventions for over twenty years and works with inventors from idea, to design and prototyping to manufacturing. "Consultations are done over the phone or in person," stated President Paul Berman, "Inventors find us from all over the world at http://www.T2design.com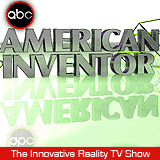 T2 Design Featured on 2 Episodes of
"American Inventor"
Friday, May 12, 2006
by: IPFrontline Staff
T2 Design, an invention prototype building company, successfully created the electronics, and composed the voice, music, and lyrics for the Niya Doll. Darla Davenport-Powell's invention, the Niya Doll, speaks and sings several languages, and is the first African American doll that speaks an African language, as well as English and Spanish.
T2 Design's Linda Shayne and Stacey Matthew wrote and recorded Niya's song, performed by Hailey Beaman and the T2 Design World Choir. "Eight countries from around the world, including Kenya, Japan, Mexico and the Philippines were represented in our choir, creating a vibrant, rhythmic sound," said Linda Shayne, film maker and songwriter.
T2 Design developed and constructed the prototypes for semi-finalist Jodi Pliszka's invention "Headline It". "Headline It" is a disposable absorbent liner for hats, helmets and wigs. T2 Design created the packaging and brand identity for Jodi's product as well." American Inventor" judge Ed Evangelista remarked, "I think people will buy it." "American Inventor" judge Peter Jones stated, "You have utilized the 50,000 dollars exceptionally well and I don't believe you could have done it better."
T2 Design's "American Inventor" creative teams are featured on T2 Design's website at www.t2design.com.
T2 Design helps inventors create products from their invention ideas. Based in Santa Monica, California, T2 Design has successfully worked with inventors designing products, building prototypes, patent searching and facilitating manufacturing for more than 15 years.
The following article is reprinted with permission from Entrepreneur Magazine
Know-It-Alls
Product development companies make getting your invention to market a cinch
By Tomima Edmark
You've got this great idea, but you don't know how to take it forward. You haven't the foggiest notion how to evaluate your idea, research the market or build a prototype. Well, an industry has cropped up to help you with this dilemma: product development companies.
Although the two are sometimes confused, product development companies and invention development companies are not the same. When you thumb through the backs of many magazines, you'll see advertisements for invention development companies or invention marketing companies. The ads offer a quick and easy way to get your idea to market for an upfront fee. These companies offer such services as a patent search, marketing reports, development and distribution contacts, and more. The services are all done for a variety of fees and for a percentage of profits from your idea. The companies' sales approach is usually high-pressure. They will flatter you by telling you how great your idea is and appeal to your sense of guilt for not having what it takes to develop it.
More than a year ago, I had one of my employees contact five of these companies that we randomly chose from the backs of magazines. She submitted a product idea I had already received a patent on and had even advertised on television. All five companies responded. Each gushed over the idea, saying it was fantastic, and each claimed to have done a preliminary investigation that showed the idea was patentable.
All the companies offered to do a patent search and an initial patent filing for fees ranging from $500 to $5,000 upfront. One company gave her a quote of $10,000 and 20 percent of future profits to "develop" the idea. The companies could not tell us what type of patent would be filed (design or utility), and all five were vague about what she would receive. My employee was aggressively and frequently called in the evenings by all the companies. When she finally asked for details in writing, her request was denied, and the phone solicitation stopped.
Both CNN and "48 Hours" have done reports on invention development companies. Both advised their viewers to steer clear of these companies, and so do I. Sen. Joseph I. Lieberman (D-CT) has introduced legislation that would conceivably wipe out these types of companies. The act is titled The 1995 Inventors Protection Act. His office estimates that about 25,000 inventors are conned by these companies each year to the tune of tens of millions of dollars.
By stark contrast, a product development company is a full-service solution to your prototype needs. These companies provide assistance in areas such as prototyping, marketing, finance, legal protection, manufacturing and packaging. The level of service may differ from one firm to another, but most offer some combination of the above. Product development firms take more of a whole-product view than do typical prototype makers. Their goal is to give your idea the best chance for success in the market. Without an aggressive sales force, they develop a proposal tailored to you and your idea and clearly state their fees upfront. These companies are end-result driven and give a lot of thought to the needs of the consumer who will buy your product.
To Market, To Market
One of the services a product development company can provide you with is obtaining market information. This information may help determine whether there is a market for your idea, and if there is a market, these companies can define it for you. They may also help you expand your idea into markets you may not have considered. They can help develop effective packaging, estimate the demand for your product and give advice on how to price your product.
The financial advice they provide may include tips on financing your idea and help with finding a business partner or licensee. Legal assistance may include patent searches and patent filings, gaining necessary government or industry approvals (Food and Drug Administration, Underwriters Laboratories, Federal Communication Commission and so on) to ensure your product meets safety requirements.
Manufacturing assistance provided by these companies can include designing your product to manufacturing specifications, preparing your product for manufacturing, and referring you to manufacturing firms. This assistance works hand in hand with the prototype development process.
The product development firm will work toward building a prototype that can be affordably manufactured. To do this, it might want to know how many units you plan to make in your initial manufacturing run and what you want the retail price to be. Using this information, it will have a prototype built out of a material that simulates as closely as possible the eventual materials used for manufacturing. For example, a final product made out of polyethylene or polypropylene will have a prototype made of urethane.
One product development company is T-2 Design Corp. in Santa Monica, California. President Paul Berman, whose company has specialized in industrial design and prototyping for the past 13 years, explains how they work: "We evaluate and research the idea, including patent searching, before we move on to the essential stage of designing a prototype," Berman says. "The raw idea is styled and designed into a functioning prototype, including any new mechanisms or electronics to make it viable."
Now for the bad news: Hiring a product development company can be expensive. Berman charges $150* for an initial consultation, during which the product is discussed and future actions are identified. Reputable product development companies will give you an honest evaluation in a consultation and tell you if they think your idea has any merit.
Generally, the next step is a patent search. T-2 charges $450* for a manual patent search which includes a patentability opinion from a patent attorney. This means an individual actually goes to the U.S. Patent and Trademark Office in Washington, DC, and hand-searches through the patent repository library. When the search results are in, T-2 contacts a patent attorney who will review the search results and provide a written opinion on the patentability of the idea.
If you decide to have a product development company design and build your prototype, be aware that the cost will vary depending on your idea. T2 charges $125* per hour. Berman estimates the cost of designing and building a prototype to be anywhere from $1,000 to $14,000*, depending on the complexity of the product. For prototypes with simple electronics, the starting point is approximately $3,500*. Sophisticated electronic prototypes usually start at around $7,000*.
After you choke on their quote for performing all the services you require, sit down and think about how much it would cost you in time and money to do it yourself, and consider the expertise they have that you don't. You may find the company is worth its fee when you consider it will reduce potentially costly mistakes, get your idea to market more quickly and provide expertise you could not find elsewhere.
Starting Your Search
Finding a product development company is relatively easy; check the Yellow Pages under "product development" and "marketing." You may also be able to find a product development company through referrals from family, friends and business contacts.
Don't be afraid to call a small company with a product similar to your own idea and ask to speak to the inventor. Many times, he or she will be more than happy to assist you. If the inventor didn't use a product development company, there is a good chance he or she knows of someone who has.
Product development companies are very helpful when your idea is complex. One of the primary functions of a product development company is to help you figure out how to get your product made out of suitable materials within a profitable cost structure. Also, if you are faced with many manufacturing alternatives, these companies can help you narrow the list. Of course, when deciding whether to use a product development company, you must weigh the benefits against the cost.
Tomima Edmark is the inventor of the TopsyTail and several other products and is author of The American Dream Fact Pack ($49.95). For more information on Tomima Edmark's current story, please visit www.HerRoom.com or www.HisRoom.com for more information.
The following article is reprinted with permission from Entrepreneur Magazine
Entrepreneur Magazine
Will It Fly?
What does a product development company look for in an invention? Paul Berman of T2 Design Corp. cites eight key elements of a successful product:
It is uniquely patentable.
It can be manufactured with technology already in existence.
Research and development costs are not extravagant.
There is a demand for it.
The retail price ensures profit at each distribution level.
Tooling costs are within reason.
It isn't too complex, so consumers can use it easily.
There aren't too many obstacles to market entry.
Assembly Required
As the saying goes, seeing is believing. That's why its so important to build a working model of your invention-in industryspeak, a prototype.
Potential investors will want to see a prototype before any money changes hands. But there is another, equally significant, reason for developing a prototype: You have to make sure your product not only looks the way you envisioned, but works the way you want it to. Many inventors are shocked to discover that what works on paper doesn't always work in practice.
If your invention isn't too technical, you may opt to build your own prototype. Rest assured, you wouldn't be the first inventor (or the last, for that matter) to do this. Otherwise, you can take your idea to a product development company such as Santa Monica, California-based T2 Design Corp.
What's the benefit of going to a product development company? "There are all kinds of traps to avoid in the inventing process," says T2 Design's president, Paul Berman. "We basically try to look out for inventors' interests."
T2 Design charges development fees ranging from $1,000 to more than $14,000*, depending on the project and whether the company receives royalties. Berman says it usually takes less than three months to produce a prototype; eight weeks is a "reasonable" average.
Inventors who approach T2 Design first go through a one-hour consultation. "We can shed a little light on what we think the odds of success for the product are," says Berman, who estimates at least half the ideas brought to T2 Design are rejected at this stage.
Following the consultation, a patent search is conducted for clients with marketable ideas. Market research and the building of an engineering model typically precede the prototype as well.
T2 Design can assist inventors after the prototype stage, too. "Conceivably," says Berman, "we can take [a product] all the way through a license deal."
How do you find a product development company? Ask for recommendations from friends, family members and personal contacts. ask local inventors' organizations for guidance. If all else fails, you can always look in the Yellow Pages.
To prototype or not to prototype…that is not the question. The question is whether to do it yourself or hire a product development company. Success by either route will smell as sweet.